Questions and answers – part 1
03.11.2020
Mariusz Luzar
,
KWHotel Team
You will read this article in 4 minutes.
Do you have any questions regarding KWHotel functions or development?
>>>Ask them here




1. In the older version of the program, you could easily add a logo in the form of a jpg or png file and it would be printed on the invoice. Why is it impossible now?
Placing the facility's logo on documents is one of the basic ways to build brand awareness among guests. Therefore, we would never allow ourselves to remove or significantly complicate the inclusion of this feature.
As a reminder, in order to add a logo to documents in KWHotel, you should prepare a .jpg file and name it "logo". The recommended size of the logo is 200×200 pixels.
Then open the folder where KWHotel was installed > Doc > En (or other language versions) > paste the logo file there. You will probably be asked to replace the current file, so agree for it.
If the logo still doesn't appear, be sure to check the following reasons:
❌ You are trying to add a file in a format other than .jpg. This was my case – I tried to add .png. After converting the file to the appropriate format, everything started working fine.
❌ You may have "overnamed" the file by accident. Check if its name looks like this: logo.jpg.jpg.
If the problem persists, feel free to contact us at support@kwhotel.com 🙂



2. How to exclude some rooms from reports and statistics?
KWHotel allows you to exclude a specific room group from reports. To do this, go to the Rooms module > Room groups > edit the required room group > Advanced > uncheck the option: "Include this room group in the reports".



3. Can I connect KWHotel with Espago and how does it work?
Of course! Before I go into details, two words of explanation for readers other than the creator of the question 🙂
Espago provides a solution that allows hotel guests to make online payments for their stays.
When synchronizing KWHotel with Espago, you can generate a payment link and send it by e-mail or SMS directly from the reservation screen (in case of SMS, synchronization with SMSAPI is required). When the guest pays using the link, payment notification will appear in the program. This means you can collect payments much faster than with standard bank transfers, and you don't have to waste time checking transfers in your account.
To order Espago for your facility, please contact our customer support 🙂



5. How to add a second facility so that both receptions can have access to the calendar?
Just two simple steps are required 🙂
Step 1. Purchase a licence for another property.
Step 2. Ask our team for a manual to connect both facilities to the same database.
As a bonus, I will also mention the function of displaying rooms from both facilities on one booking schedule – you can find it in the Tools > Configuration > Calendar > "Display rooms from all hotels in one calendar" menu.



6. I'm a beginner in the program, I have a lot of questions 🙂
Here I can propose at least four paths for deepening your expertise in KWHotel 🙂
Option I – KWHotel Help Center
Option II – YouTube guides
Option III – Consultations
Option IV – KWHotel training



7. How to find all documents of a particular customer in the "Accounting" tab?
I think one image will speak louder than words 🙂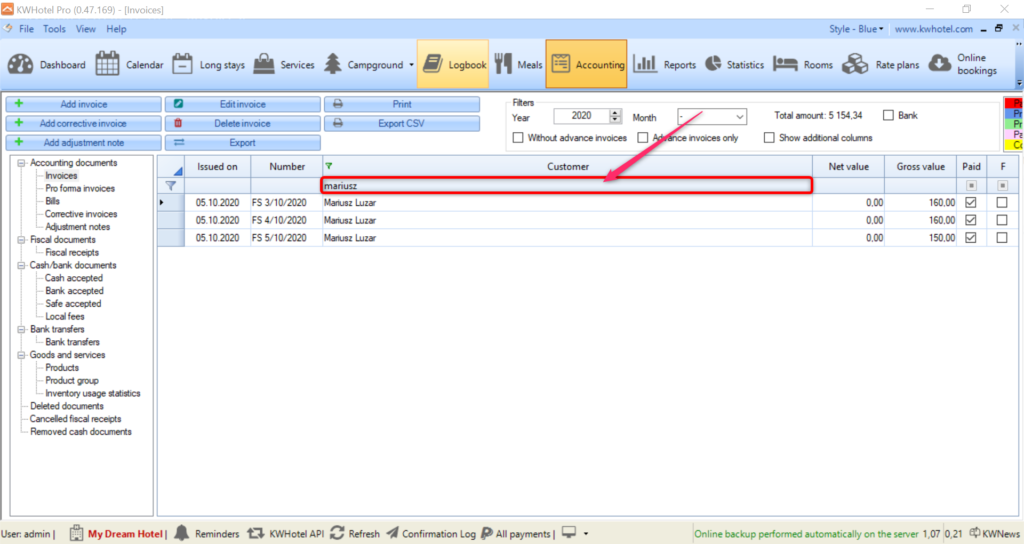 8. How to print out a bill for the customer, showing the rate of his stay and the individual consumption such as beverages and food?
To make every meal appear as a separate position on the bill, it has to be added through the "Products" tab (bottom-left corner of the reservation screen).
The same applies to beverages and other services.
Your final result would look as follows: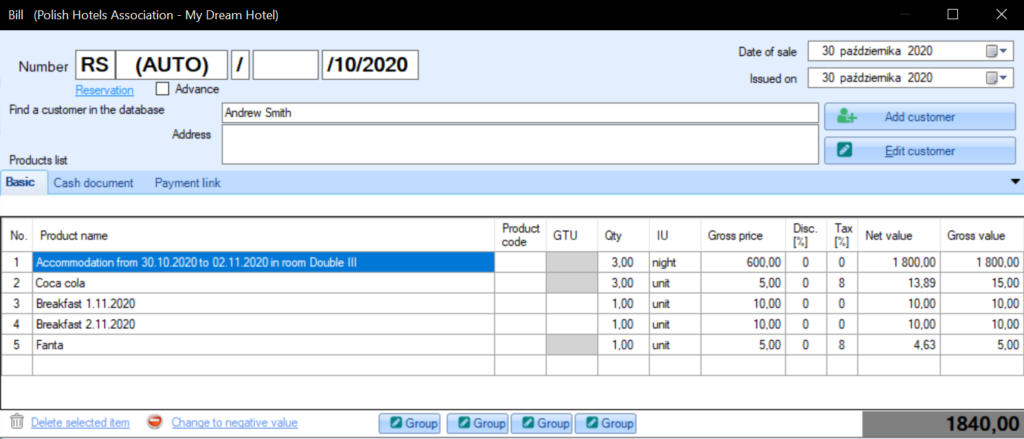 9. KWHotel offered our students a Standard version – we can't thank you enough!
I know technically it's not a question 🙂 but if you happen to run classes on hotel programs, feel free to contact us and receive a free copy of KWHotel Standard Educational version!



10. Will there be a new mobile application and will it work on iOS?
I'm sorry to answer very briefly, but the new mobile application will be a part of our upcoming solution "KWHotel Cloud". I can't wait to provide you with more details on this project. It's being developed for over two years now, but please be patient a little more.
And yes, the app will work on iOS and any other mobile device. It's written in completely new technology to provide you with maximum comfort of use.
When? 2021 🙂



11. When will it be possible to enter two housekeeping fees so that I can automatically settle apartment owners – I'm doing it manually now 🙁?
This option will be available next year as part of the above-mentioned KWHotel Cloud 🙂 There will be two fees per apartment type:
How much does the guest pay for cleaning?
How much money will the housekeeping lady receive for cleaning it



12. Are you working on adding a sales report based on rate plans/packages and room night per segment?
Recently, many hoteliers have asked us for a similar report, so yes, we have plans to do it. When I know any details about the release date, I'll let you know!