Apartment rental management in Golf Sun and Sand
22.10.2019
Anna Piątek
,
KWHotel Customer Advisor
You will read this article in 3 minutes.
Golf Sun and Sand is a company specialized in providing a large range of tourist services. It also offers villa and apartment accommodations for short and long term rent in one of the finest Golf and SPA resorts in Cape of Kaliakra in Bulgaria. Stoyan started his apartment rental management business 6 years ago with only 5 apartments for rent. Today he manages almost 70 units and opened 2 additional complexes.
"So far our 4 years cooperation is a great experience. Intuitive and easy to use interface. I found the perfect balance between functionality and price in KWhotel" – Stoyan Todorov.
Apartment rental management – in need of optimization
Golf Sun and Sand were looking for a solution that would help them manage the fast-growing business of apartments for rent. Crucial elements were to synchronize the software directly with OTA portals and the website. Due to the plan of expanding the operations, they were looking for the solution which can manage all kinds of reservations in one place.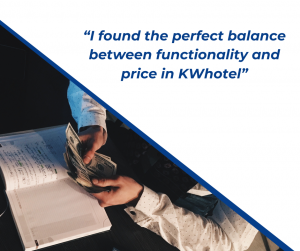 Stoyan – the business owner, shared with us what made him choose KWHotel 4 years ago, when we started the cooperation. "I wanted to find a perfect balance between price and functionalities. The direct synchronization with booking portals such as Booking.com or Expedia and integration with website reservations were something of great interest for me."
Apartment rental management – implemented solutions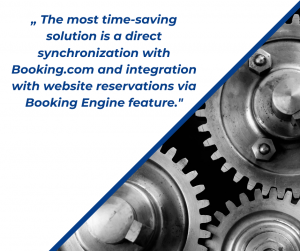 When we started preparing the offer for Golf Sun and Sand, our main focus was to propose a solution which will allow to conveniently manage reservations from online portals and website in one place.
It was a crucial function for the owner due to the significant role of the OTA portals in their reservation sources. Almost 65% of reservations come from Booking.com. That's why it was important to find some time-savings in the process of handling those online bookings..
In the first batch we implemented:
KWHotel Pro hosted on the online database; it made handling the apartment rental management possible on multiple workstations,

Direct synchronization with Booking.com for an automated handling of Booking.com reservations and occupancy

Booking Engine feature, allowing guests to make reservations directly from a website; all bookings are of course automatically synchronized with KWHotel software.
This year we are delighted to say that Golf Sun and Sand business is growing and extended their package of KWHotel software adding
Almost twice as many rooms in the KWHotel database
Stoyan shared with us what he values the most in our software."KWHotel software has an intuitive and easy to use interface. The most time-saving solution is a direct synchronization with Booking.com and integration with website reservations via Booking Engine feature. Also, we were able to extend our package and add Expedia synchronization later as our business grows."
Cooperation summary:
Golf Sun and Sand started cooperation with us 4 years ago and we are proud to support this constantly growing business of apartment rental management in Bulgaria. We strive to improve their workflow and speed up the processing of an increasing number of reservations. Such partnerships are one of the reasons we can keep up with the dynamically changing reality of the hospitality market.
Anna Piątek – Customer advisor in KWHotel