Apartment rental automation by KWHotel – case study of Dom & House
05.09.2019
Szymon Cyrzyk
,
KWHotel Hospitality Market Researcher
You will read this article in 5 minutes.
Wide range of management processes
Dom & House has been operating on the real estate market in the Tricity, Poland for over 10 years now. Currently the company handles the sale and rental of houses, apartments and commercial real estates, both on the aftermarket and primary market. Dom & House operations include the management of over 250 apartments in the Tricity and taking care of over 36 000 guests annually, who enjoy the possibility of short-term and long-term rental.
The demand for optimization
At some stage of development, the constant increase in the number of handled guests and premises made it necessary to implement external systems that would help to optimize the management process and accelerate the business growth. The most striking challenges were related to the automation of apartment management in different locations. A solution was needed that would assist both in everyday booking service and in effective communication with the owners of the premises. . Ms Katarzyna Brędowska – apartment rental manager, recalls this period in the following way:
"Since the beginning of operations in 2015, our apartment offer has been systematically expanding. When it reached the number of around 100 apartments for short-term rental in three different cities, it became necessary to implement a hotel system where we could split the locations and maintain transparency. Previously, all processes related to the booking service were carried out manually, by using a traditional calendar and Excel spreadsheet. Prices, availabilities and minimal stays in portals were entered by hand which was very time consuming and caused a high risk of overbooking".
Applied solutions
In the beginning of 2015, the owners of Dom & House decided to establish cooperation with our company. Based on the information provided, KWHotel specialists have managed to isolate three solutions that were a direct response to the problems of our Partner in Trójmieście. We then proposed the implementation of the following services:
– network hotel management software KWHotel Pro
– web module for apartment owners
– synchronization module with the YieldPlanet channel manager
The first software configuration, due to the complexity of provided services, required commitment from both sides. Close cooperation with KWHotel technical support has definitely facilitated this process. We decided to ask Katarzyna how the program aided the Dom & House team:
"The implementation of the KWHotel system changed our work by 180 degrees. All necessary information about the apartments and guests was in one place. Modifying every reservation, adding a comment, efficient checking of e.g. guest arrival or any comments, were possible for every employee who had a login to the system, at any place and time, both using a desktop computer and even via phone"
Results?
The use of the web panel has minimised the need for constant contact with each apartment owner individually – they can independently view the current occupancy and revenues of their premises. Automatic calculation of commision for the rental of each apartment saved a huge amount of time and allowed the team to be redirected to other company operations instead. "Communication with apartment owners has been significantly improved because since then they had a 24-hour access to both the occupancy and prices of the rented apartment. It reduced the need for frequent phone and email contact regarding reservations and allowed us to focus on increasing sales efficiency".
Many years of cooperation with YieldPlanet was a guarantee for us that connecting KWHotel software with their channel manager would bring outstanding results in case of Dom & House. "Only between 2017 and 2018, the total number of room nights booked increased over three times! We started with two connected channels: Booking.com and Expedia. Currently we use six channels. This year we have joined AirBnB and we are already using this connection. 2019 has a potential to be a record year for us".
We were not mistaken – listing the offer of renting apartments in the most popular booking channels in the world brought impressive results. "The vast majority of reservations in our system are reservations from OTA which constitute about 70% of the total"" – informs the Manager, therefore "At the current level of size and scale of our company, we cannot imagine a system solution other than cooperation with our Partners of KWHotel software and YieldPlanet channel manager. The complete automation of the system has streamlined our daily work, but above all influenced the further development of our business".
Partnership for years
Cooperation between KWHotel and Dom & House continues to this day – we consider the past years as an example of a truly successful partnership.
"Our cooperation with KWHotel is very successful. As we mentioned in the beginning, the hotel program has definitely improved our business. We also value KWHotel for creating new functionalities for apartment rental. Not all developers of other systems are willing to cooperate in such way. The KWHotel Team is always open to suggestions and adjustments of new tools in accordance to our needs. We hope that this level of cooperation will continue to develop".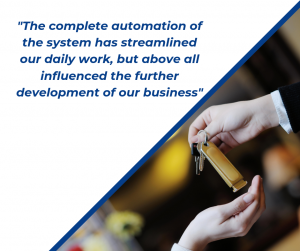 The representatives of Dom & House have also repeatedly supported us with their valuable insights regarding the development of our panel for apartment owners and KWHotel software itself. We are proud that our joint effort has improved the service of several hundred apartments in the Tricity, which provide comfort to thousands of guests from around the world every year.
Wish to improve your apartments management? Contact Us!
Looking for Channel Manager? Contact with YieldPlanet and order free demo!